Due

No Due Date

Points

100

Submitting

a text entry box, a media recording, or a file upload
Engineers must understand the thermal properties of materials to be able to predict the performance of any given material over its lifetime in a specific application. Engineers apply their understanding of the thermal properties of materials to the design of efficient heat transfer materials for better engines, spacecraft and electronic devices. They also examine the thermal properties of insulation to design more efficient buildings and homes. Engineers develop ways to minimize heat transfer from a motor to the surrounding environment. Often they find ways to insulate the motor to decrease the convective heat transfer from the motor. They design a refrigerator to keep heat out of the inside, as well as keep the refrigerator contents cool.
Introduction/Motivation
Just below the Earth's surface is a virtually limitless supply of energy. What type of energy do you think it is? Can you guess? Well, the Earth's middle or core is very, very hot, so the type of energy just under the earth's surface is
heat energy
! We have another name for heat energy and that is
thermal energy
. The thermal energy in the six miles of the Earth's crust, right below us, is equal to 50,000 times the energy of all the oil and gas resources in the world. That's a lot of energy from heat!
How do we measure thermal energy or heat? We use a
thermometer
or take a temperature reading.
Temperature
is a way we measure heat or thermal energy. Heat is energy that is
transferred
from one object to another due to a difference in their temperatures. Have you every noticed that when you lay your head on a cold pillow, it soon warms up? Well, that's heat transferring from your head to the pillow. Heat can be transferred between objects at different temperatures in three ways:
conduction
,
convection
or
radiation
.
Conduction
is when heat or thermal energy is transferred between two objects touching each other. Resting your head on a cool pillow is one example. Other examples include burning your hand by touching a hot pan, sitting on a hot car seat, and a pot warming up when you put it on a stove burner.
Convection
is similar to conduction, but it happens when one material is a liquid or a gas, like water and air. Examples of convection include boiling water in a pot and when warm air moves towards the ceiling in a heated room.
Radiation
occurs when heat is transferred between two objects that are not touching, and can even be very be far apart. Examples of radiation include the heat from the sun traveling through space or feeling the warmth of a fire or heater when you are in the same room.
Have you ever noticed that some materials heat up or cool down faster than others? That is because each material has a different rate for transferring its thermal energy. Do you remember learning about conductors and insulators? Who can remember what they are? A
conductor
is a material that helps energy pass through and an
insulator
is a material that prevents energy from passing through it. This happens with any type of energy, thermal energy included. When you wear an oven mitt while removing a pot from a burner, the oven mitt insulates your hand from the thermal energy of the pot, or keeps the heat from burning your hand. Common insulators for heat are plastic, Styrofoam and wood, because these materials heat up very slowly. Common conductors for heat are... can you guess? What materials get hot quickly on a sunny day? That's right, metals! They heat up really fast!
Some everyday appliances designed by engineers use thermal energy to work for us. Can you think of a few devices that need heat to work? (Possible answers: Air conditioner, oven, stove, convection oven, toaster, water heater and furnace.) Engineers need a good understanding about thermal energy and how heat is transferred for many different reasons. Engineers who work with new materials must understand their thermal energy properties to be able to predict how materials will behave. They use their knowledge of thermal energy of materials to design better engines, spacecraft and electronic devices to help people. When designing new buildings, homes and refrigerators, engineers study how well insulation works to keep thermal energy out.
Today, we are going to learn more about thermal energy and how it is useful for us and engineers.
More on Conduction
When you cook on an electric stove, the pots and pans are heated by conduction. In this process, heat is transferred from the burner to the bottom of the pot. The particles (both the molecules and electrons) at the bottom of the pot move faster and have more collisions with neighboring particles, causing them to move faster. Eventually, the entire pot is hot because of transmission of thermal energy through these collisions.
Materials that are good conductors of electricity are also good conductors of heat. This is because the transmission of heat depends on the outermost electrons, just as the ability to conduct electricity does. Solids with weakly-bonded electrons are good
conductors
of both heat and electricity. Materials that are poor conductors of heat and electricity are
insulators
. In general, both gases and liquids are good insulators.
Engineers use good insulator materials to maintain an object's temperature, whether it is hot or cold. For example, many types of materials are used to insulate buildings, including fiberglass and rigid foam. Much of the insulation value of these materials is provided by tiny air pockets in the material. Insulation works both ways; it slows the rate of heat transfer between a building and the environment. If it is warm in the building and cold outside, insulation slows the rate of heat transfer to the outside. If it is cold in the building and warm outside, insulation slows the rate of heat transfer to the inside.
More on Convection
Heat is transferred by convection in liquids and gases. When a fluid, either a liquid or gas, is in contact with a hot object, warmed fluid rises and cooler fluid sinks to take the place of the warmed fluid. This produces currents in the fluid. When a pan of water is heated on the stove, heat is transferred to the pan and then to molecules of water that are in contact with the pan by conduction. As a packet of water gains heat, and its molecules speed up, it expands, becoming less dense than the surrounding water. This less dense packet of water rises like a balloon through the surrounding liquid. Colder, denser water packets sink to take its place.
More on Radiation
Heat transfer can also occur between objects that are not touching and that are separated by empty space. This is exactly how energy from the sun reaches Earth across 150 million kilometers (93 million miles) of nearly empty space. Similarly, energy from a fire or stove burner reaches our bodies through empty space. In fact, all objects transfer energy in this way at all times. This phenomenon is known as radiation. Besides heat, radiation
transmits
other forms of energy, such as visible light, x-rays, radio, which are all forms of electromagnetic radiation. The energy in x-rays is greater than the energy in visible light, which is greater than the energy of heat (infrared radiation), which is greater than the energy of radio waves. In a vacuum, energy is transmitted at the speed of light by radiation. In an object that absorbs infrared radiation, the motion of its particles increases, thus increasing its temperature.
Everything is continually radiating energy and
absorbing
energy by radiation. An object's temperature increases if it absorbs more energy than it radiates and vice versa. If an object is warmer than its surrounding it transfers heat to its surroundings by radiation (and by conduction, if it is touching another object, and by convection if there is a fluid in the environment).
Black objects are good absorbers and radiators, while shiny or white objects are poor absorbers and radiators. For example, dark-colored cars get much hotter than white cars on hot days. White and shiny surfaces
reflect
radiation. This is why engineers, architects and builders sometimes paint roofs or houses white in hot climates to help reduce the need for air conditioning.
What is the difference between thermal energy and temperature?
The atoms and molecules in all matter (solids, liquids, gases and plasmas) are constantly vibrating. There is more movement of the particles in a warmer object and less movement of the particles in a cooler object. Temperature is a quantitative measurement of how warm or cool an object is. Measuring the temperature of an object gives the average kinetic energy — the energy due to motion — of the particles in the object.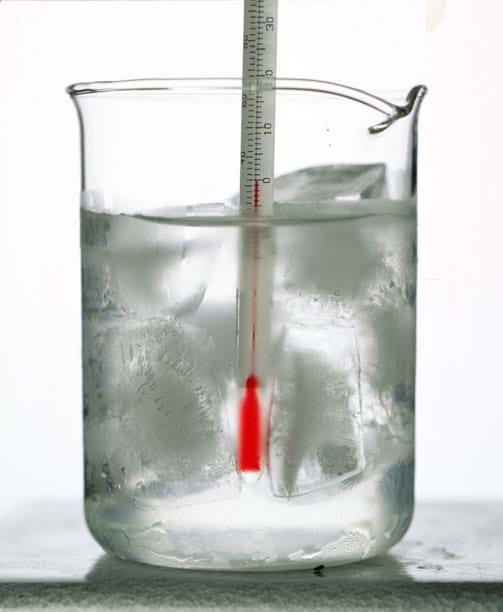 Engineers use many types of thermometers to measure and monitor temperatures.
Materials that are good conductors of heat feel hotter to the touch than materials than are insulators even if they are at the same temperature. Two objects at the same temperature that are identical in all respects but size have different amounts of thermal energy. The larger object has a greater amount of thermal energy than the smaller object due to its greater mass.
As the temperature of matter changes, its characteristic properties, such as electrical conductivity, may change. Almost all materials also change volume as their temperature changes. Most materials expand as their temperature increases and contract as their temperature decreases. Materials expand when their temperature increases because the particles are moving about a higher average speed and therefore have more energetic collisions. The energetic collisions force the particles to move farther apart.
The expansion and contraction of gases is dramatic. For example, the volume of a balloon decreases greatly if it is dunked in liquid nitrogen. The balloon returns to its original size as it warms back up to room temperature. The volume change of solids with a change in temperature is less noticeable. However, most people have experienced the result of the expansion of a metal lid on a glass jar (making it easier to open) when it is held under hot water. The metal lid expands more than the glass jar, so the lid can be removed. In general, expansion and contraction of liquids is greater than expansion and contraction of solids. Different materials expand and contract at different rates.
Why do some things heat up and cool down faster than others?
How long it takes a material to heat up or cool down depends on the amount of the material and its specific heat.
Specific heat
is the amount of heat required to raise the temperature of one unit mass of a material by one degree. Specific heat is unique for every type of material. Diamonds have high specific heat and thermal conductivity, which is why they are cold to the touch. The specific heat of water is much higher than for most materials. So, for example, it takes much longer to heat up or cool down a given mass of water than an equal mass of aluminum or iron. The high specific heat of water makes it useful for both cooling and warming. This characteristic of water explains why locations next to large bodies of water tend to have more moderate climates than those further inland. Most people have experienced the effects of varying specific heats when eating fruit pie right out of the oven. The fruit filling, which is made mostly of water, can still burn your mouth even though the crust is no longer hot.
A pie's fruit filling has a different specific heat than its crust.
How is heat transfer important in engineering?
Understanding heat transfer, whether the goal is to maximize or minimize it, is important to engineers. Civil and architectural engineers use insulation and passive solar design to construct buildings that neither lose nor gain too much heat. Mechanical engineers design appliances, such as air conditioners, refrigerators, heaters and ventilation systems. Civil engineers design heating, cooling and ventilation systems for buildings. Aerospace engineers design thermal control systems for spacecraft and study how airplane designs affect aerodynamic heating.
Sometimes engineers need to maximize heat transfer of devices that tend to overheat or work less efficiently at higher temperatures. For example, the waste heat from an electric generator, a computer CPU, or a refrigerator
compressor
must be transferred away from the devices as much as possible. In other applications, engineers must minimize heat transfer to keep a device working efficiently. For instance, the storage space of a refrigerator must be well insulated to minimize the heat transfer from the outside to the inside.
Lesson Closure
Ask the students to list examples of each of the three methods of heat transfer. (Possible answers:
Conduction:
Burning your hand touching a hot pan, sitting on a hot car seat, a pot warming up when placed on a hot burner.
Convection:
Boiling water in a pot, warm air moving towards the ceiling in a heated room.
Radiation:
Sunlight traveling through space, feeling the warmth of a fire or other heat source, feeling the warmth of anything without touching it.) What is another name for heat? (Answer: Thermal energy.) Engineers use thermal energy when designing all sorts of devices. Who can name an example of an appliance that uses thermal energy? (Possible answers: Water heater, stove, oven and toaster.)
Materials List
Each group needs:
For the entire class to share:
Any of the following materials, a different one for each group: sand, water, shredded paper, shredded Styrofoam, cloth, or powdered materials such as Sakrete (concrete), plaster or finely crushed rock. Students can also bring from home specific materials the teacher approves for testing.
Hot water (~85°C), enough for each group to fill large jars
Ice water, enough for each group to fill large jars
2 large beakers, cans, dishpans or other containers (for cold and hot water control setup)
Measuring cups (or jars with 200 ml level marked)
Masking tape
Markers
Procedure
Before the Activity
Calculate the quantity of each material that you will need in order to provide each student group with ~4/5 cup (200 ml) of one of the materials.
Gather materials and make copies of the

How Much Heat Will It Hold? Worksheet.
Set up stations for each test material: container of material, thermometers, jars, measuring cups or jars with 200 ml level marked and bucket (or other container for used materials).
Prepare enough ice and hot water for the class. Wait until right before starting the activity to put hot water in one bucket.
Put the ice and tap water in another bucket for the second half of the activity.
As a control, the teacher measures the temperature of the hot water and ice water during the 10 minutes. This data may be used as comparison at the end of the activity, during a discussion of water temperature heat loss to the room air.
The students evaluate the following variables: 1) The kind(s) of materials they are testing, and 2) Water temperature (testing in hot water or cold water or both).
With the Students
Divide the class into student teams of three or four students each.
Assign team "jobs." In each team, have one student in charge of reading the temperature on the thermometer in the material, another to read the temperature in the water and a third to be the recorder. If you have any groups of four, have the fourth student be in charge of watching the time between measurements.
Ask the students to predict which material will have the highest heat capacity (store thermal energy the best), and record this on their worksheets.
Have each team go to the appropriate station and look at their materials. Instruct them to measure 200 ml of their assigned material using a measuring cup or jar with the 200 ml level marked.
Have the student testing water pour the hot water in his/her container (large jar) and place a thermometer in the container. Have students testing the powdered material, sand or dirt, fill the beaker halfway (small jar), place a thermometer into the material and then finish filling their containers. The material must cover the thermometer bulb or bottom.
Using masking tape, label each container.
Measure and record the initial temperatures of the materials and water. Remind the recorders to document the starting temperatures on their worksheets.
Place the beakers/jars of material into the large container of hot water.
Have students measure and record the temperature of the material and the water bath every minute for 10 minutes (see Table 1 for a sample data table). Record the starting temperature of the 200 ml beaker of water, sand, and paper, etc., and the temperature of the hot water bath at "0" minutes. Record the temperature reading of each of the thermometers every 1 (or 2) minutes in the table. Record the temperature reading of each of the thermometers every 1 (or 2) minutes in the data table.

Table 1. Sample data table of temperature readings of different materials in an ice bath.
Have each team member pour the contents of their beaker/jar into waste containers at the appropriate station.
Repeat the entire activity using ice water instead of hot water.
After all measurements have been made, direct students to make a bar graph showing their material and the highest temperature or the lowest temperature it reached.
Conclude with a class discussion:
Compare the results of the different materials tested. Compare graphs. Which materials had the highest heat capacity (stored heat the longest)?
Also compare the temperature gains (losses) to the teacher's measurement of the hot water and ice water, taken as a control. Discuss the water's heat loss (and gain) to (and from) the air in the room.
Ask students to comment on their initial predictions, as recorded on the worksheets. What have they learned? Ask them to explain their understanding of which materials have a high-heat capacity and which have a low-heat capacity.
How would an engineer use what the students have learned today? Which of the materials that the class measured would an engineer choose for insulating a home in the winter? To design a good food storage container for soup? For the design of a product that you want to heat up quickly?
Answer the questions to this assignment in a Word file. Save the file in the appropriate place on the network. Then, upload the completed file to this assignment link by clicking the Submit Assignment button in the upper right hand corner of this window. Proofread your work carefully before you submit it.
Lesson copied from https://www.teachengineering.org/view_activity.php?url=collection/cub_/activities/cub_energy2/cub_energy2_lesson06_activity2.xml (Links to an external site.)on December 12, 2014.